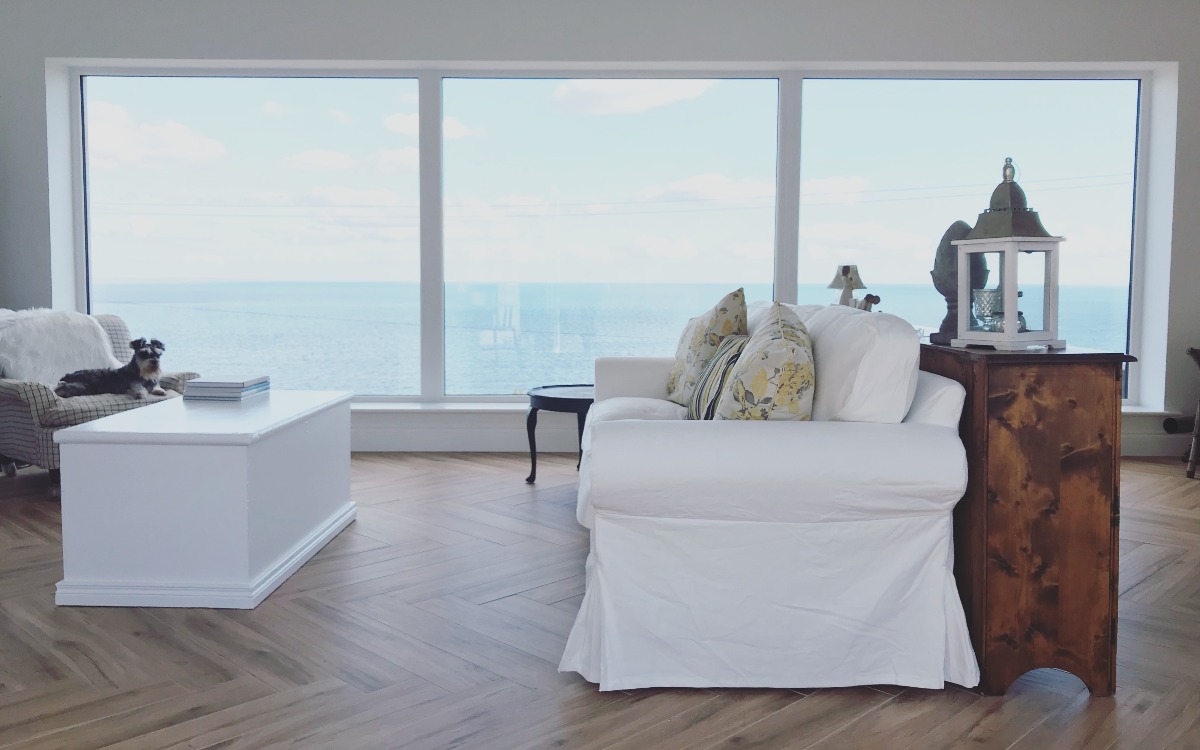 Contemporary decor is one of those things about interior design that gets many people confused. It's not quite the modern style that came about in the 60's all the way up to the early 2000's. However it shares so many influences from that period, and the contemporary style is something we embraced for our own home. Contemporary design doesn't necessarily refer to a specific period but is more a reflection of the more popular styles of present day design. 
Straight, Sharp and Clean
One common trait for contemporary design is straight, sharp and clean lines. Present day artists and architects are constantly trying to travel outside the norms and push the boundary. This often results in many complex shapes around the home, including many different uses of various materials and an incredible amount of experimentation. Maybe those two things symbolise the contemporary decor movements of the current day, and have only just truly came into being in more recent times.
As you can imagine then, many of these styles are new to the majority of homeowners. Which brings up the question, should you go it alone when redecorating your home, or should you stick with set styles? Your architect may have a big influence on your final choice but going it alone means you can mix and match design concepts but carry a greater risk of making errors. Set styles mean that you will be taking inspiration from what others have done, especially when it comes to contemporary design.
Oldstyle Made New
As you will notice the more and more you delve into contemporary decor, there are some things which take inspiration from other design styles. Bear in mind, contemporary decor just merely means the current decor styles of the day. If you are trying to come up with something totally new, it's common that you may dip your toes into things that have already been done from time to time.
How they are done however is the biggest issue and in contemporary decor, one of the things that have been taken from the older styles is the need for a living room rug. The rug is usually placed under the coffee table or perhaps in the middle of the room to cover up a blank space. Many contemporary homes have open plan living spaces which encompass the kitchen, dining room and living room. This is the case for our own home and a rug for your living room can really help break the rooms up and distinguish one area from another.
With the opposite ethos to the traditional decor, a contemporary rug is more concerned about color and material than pattern and style. Therefore a nice 100% cotton rug in a peach or early morning pink hue can be a great way to transform your living room.
Neutral colors such as grey, white and beige are also options to consider. The rug itself doesn't have to match your living room entirely, you can be a little experimental if you wish. Finding your own rug isn't difficult but if you're unsure of yourself, then you can opt to go onto websites like Modern Rugs, The Rugs Warehouse or MADE. These companies will offer a range of art-decor, contemporary, modern,and eclectic styles.
Comfort is Highly Prized
A contemporary dining area is one of the key examples where comfort and materials are placed higher than design and overall style. It's a place where the whole family comes together to eat and that should be the main focus of this space. Therefore in a contemporary home you will find that there can be a bit of a clash between what is comfortable and what isn't.
It's not uncommon to find wicker dining seats with cushions and throws over them. This seems on the face of it, to be some kind of summer or coastal decor vibe. However a contemporary home is okay with this because the comfort that the wicker seats and fabrics over them provide is more than tolerable.
However more than likely, you could see a mixture of metal chairs with cotton-padded cushions and back support and glass tables. The chairs themselves and the table don't need to be extravagant in their design as again, style is not the main concern here.
Some contemporary dining seats also use memory foam for delightful comfort at the table. Once again, here you'll have straight lines in order to maximise space. The table itself may be made out of wood, and this is quite common in contemporary homes, with some metal features on the table legs. These legs will usually be thick and almost give off an industrial workshop look.
If you would rather not go on your own to find something like this, you can explore the set styles of companies like Danetti, Furniture Village, or Modern Living. All of these companies have their own take on contemporary styling but the one that is most in-line with the present day trends is Modern Living. The upholstery on the chairs is very prized as you can get options that are made from different quality leather such as deer or sheep.
The Picturesque Bathroom
Think carefully, when you picture A contemporary bathroom what do you see in your mind? It's almost become a classic now because almost everyone recognises it. The bathroom will incorporate a lot of white as it's main neutral color base. The bathroom itself will be trying to use straight lines wherever it can, such as for the sink, the cabinet, the towel rack and even the toilet.
Dipping out of the hardcore contemporary style is the bath itself. There's still a need for a bit of luxury here and hence why the traditional styles of baths that have curves and tall sides are much desired. It's quite a picturesque bathroom when you think about it because most people instantly know what you're talking about when you say contemporary bathroom.
The bathroom is perhaps the easiest room to change over to a contemporary style as the fittings are limited to begin with. The deep walls of the sink can melt away in your counter top, and this is an area where you can really inject your personality (something we have done with our own sink).
You can utilise wood as well to help offset neutral colors, and consider the addition of some tiles to make a real feature of your wall. If you would like to follow the set style of a company, then look at your local bathroom supplier. They will design the bathroom from scratch, plan out the logistical requirements, and some suppliers will also fit it for you as well.
Are You a Fan of Contemporary Design?
Is contemporary design something you have tried to incorporate in your own home? We'd love to hear what you've done. Let us know by commenting below.
Helen, Nial and Lewis