Are you interested in making your home look more luxurious? If so, then there are a few possibilities that you can explore. Focusing on adding luxury touches and finishes to your home can have an impact on the end value of your home, something which will be worthwhile if you ever come to re-selling your home.
Below we share a few suggestions to adding a touch of luxe to your home.
1. Unique Aesthetic Features
First, you might want to think about adding features to your home that have a unique aesthetic. There are quite a few examples of this to explore and most of them won't break the bank.
For instance, you could add a wall fireplace or look for a feature fireplace. We opted for a restored slate fireplace as a focal point in our main living space. Or, if you want to look a little bolder, you could explore a 360 degree fireplace. Artificial or not, it's sure to stand out as part of your home. It could be just what you need to dazzle a future buyer.
2. Beautiful Flooring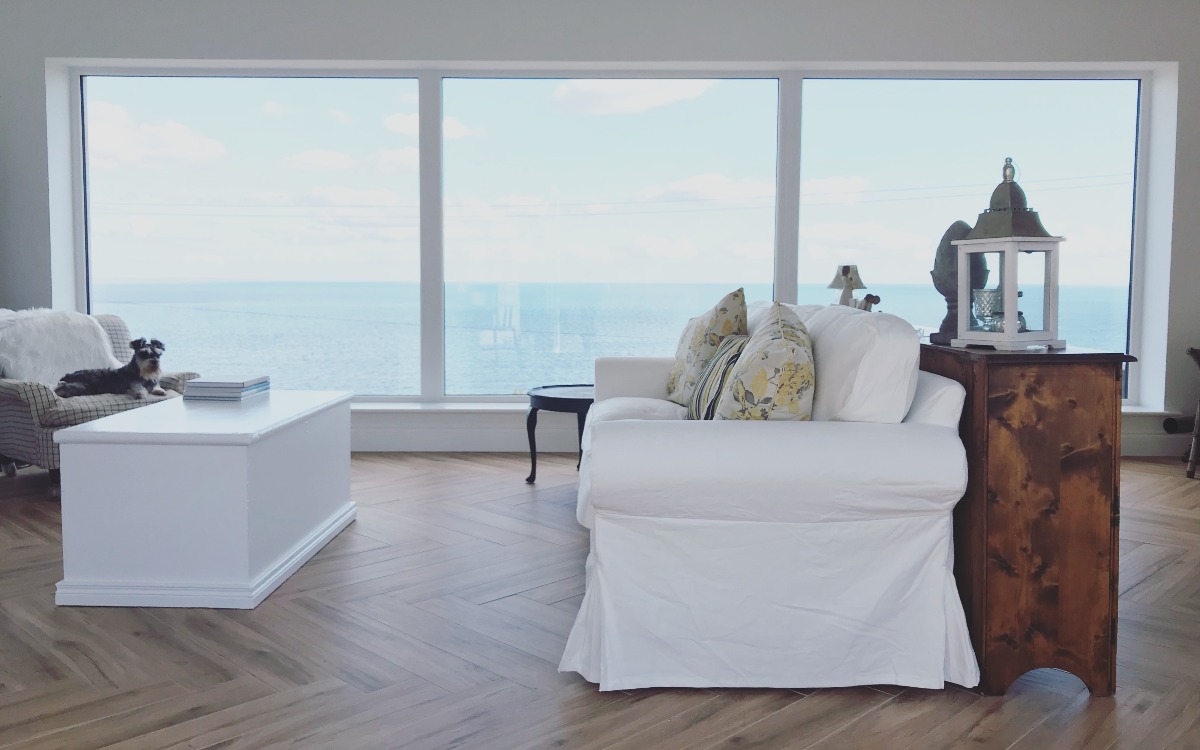 You might also want to think about changing the flooring in your home. This is important as it obviously takes up a massive space and is key for making the right impression. Finishings like polished concrete, natural hardwoods and tiled flooring can all give a sense of luxury within a home.
We opted for a mix of flooring types in our home but the main downstairs living space has a herringbone finish with a wood effect tile to support the underfloor heating. You can also consider more appealing alternatives like engineered wood flooring from companies such as Flooring365. With this flooring, you can guarantee that your home will look incredible and create the individual aesthetic that you want.
3. New Technology
Alternatively, you may wish to consider adding some new technology to your home and making it a smart home. Smart controls for your heating, lights, alarms, appliances and general tech around your home. If you end up selling your home, these will be sure to appeal to a tech-savvy buyer.
You could also look into creating a smart wall in your home. These are completely interactive and can be used to control different parts of your home.
4. The Right Furniture With A Beautiful Theme
Last but certainly not least, you might want to think about adding some new furniture to your home. If you want to take this a step further than you could use furniture to create a theme. The theme can be anything and you could definitely consider making your home look like futuristic heaven.
We have restored some older furniture in our home, creating feature tables and chairs which have certainly made an impression with guests. This is something to really consider and something you'll find very rewarding.
Got Something to Add?
We hope this helps you understand some of the ways that you can make your home look more impressive and guarantee that it's a hit in the future when you put it on the market.
If you've got other tips to share please feel free to add them to the comments section below.
Until next time, thanks for reading.
Helen, Nial and Lewis.