Want to spend less time cleaning your home? Investing in a few home improvements could make your interior much easier to clean. This could be particularly worthwhile if you have kids or pets that are constantly making a mess. Below are just a few ways to design a home that's easy to clean.
Plastic Shower Panels
Bathroom tiles are the most popular way to decorate bathroom walls. While they're a suitable waterproof option, cleaning them can be a chore – especially the grouting between the tiles. Plastic shower panels are a lot easier to clean and are equally waterproof.
You can also pick from a variety of designs from plain white panels to granite imitation panels. You can even buy plastic panels that look like tiles!
Laminate Flooring
Carpets can make a home warmer and cosier, but they can be a nightmare to keep clean. Laminate flooring can be a better choice if cleaning is a priority. Spilt foods and liquids can be easily mopped up, while animal fur and dirt can be easily swept up.
A cheaper and more apartment-friendly alternative is vinyl flooring. Ceramic tiles are another easy-to-clean flooring option that can help to cool your home down in the heat, however they tend to be more expensive.
Scrubbable Paint
Walls can get easily marked if you've got kids or pets, and scrubbing away these marks can be difficult if you've used regular paint. Opting for a scrubbable paint could make your walls easier to clean – such walls allow you to more easily wipe away scuff marks, mould or even felt tip pen scribbles. You can shop for these paints in your local home store or online.
Leather Sofas
When designing a home that's easy to clean, you should also consider the material of your upholstery. Sofas made from materials like cotton and polyester may stain more easily or may require more vigorous scrubbing if they get dirty.
Leather sofas may not be as cosy as softer fabric sofas, but they're a lot easier to keep clean. Most substances can be easily wiped away with a cloth. Darker leather tends to be a better option – white leather may still get discoloured. Other fabrics like vinyl can be easy to clean too.
Rugs, Mats & Sofa Covers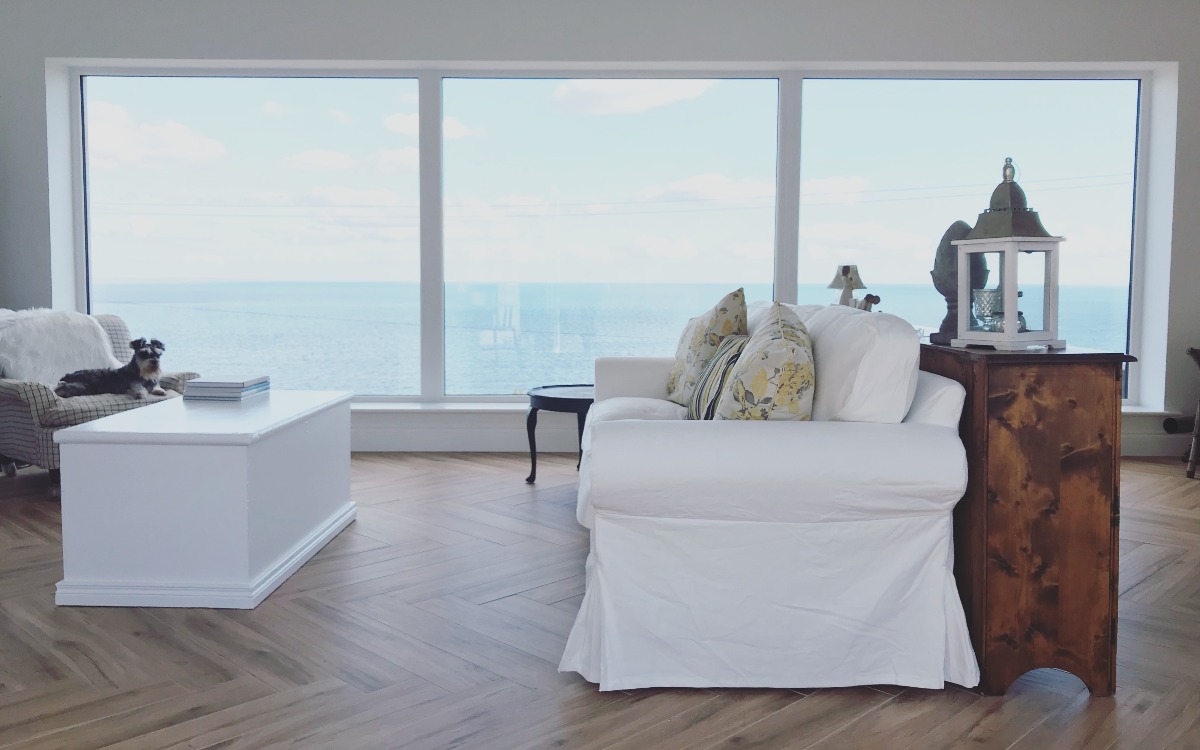 A cheap way to make your home easier to clean could be to simply make use of rugs, mats and sofa covers. You can prevent your floor getting stained by simply placing rugs and mats in strategic areas in order to catch mess (such as under a table, under a sofa, in the hallway or under a high chair).
This could allow you to stick with carpet instead splashing out on a laminate floor. Similarly, you could place sofa covers over your sofas to protect them from mess. Such covers could be machine-washable, allowing you to easily clean them in the washing machine. This could save you having to buy a new sofa.
Got Something To Add?
Let us know what you have done to ensure you keep a clean and tidy home by sharing your tips in the comments section below.
Until next time, thanks for reading.
Helen, Nial and Lewis.