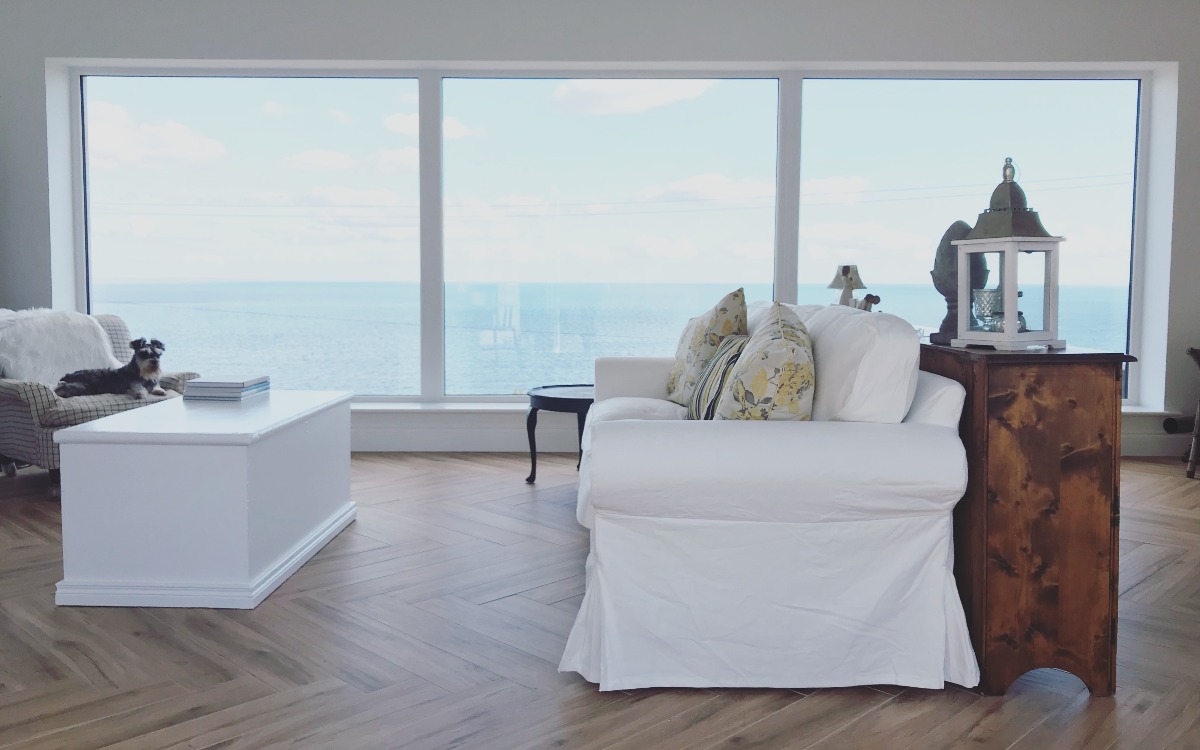 A light and airy home can be a happier one, and it really does have mood altering powers, so we should be paying a lot more attention to how it works in our homes. Whether it's creating intimacy, adding drama, raising the energy levels or calming things down, lighting can be a game changer if you get it right.
Here are four things to consider to introduce light to your home to really enhance the ambiance and mood.
Change It Up
When you have a multi-functional space installing a dimmer switch can be a great idea. Take your average family room – used for everything from homework sessions to family dinners and entertaining friends – a dimmer can give you the flexibility to match the mood to the task.
We have dimmer switches fitted in almost every main room in our home, and in particular our open plan main living area. Dimmer switches and their impact on lighting can be a great way to manipulate the mood in a room – from turning the lights down low to make things feel convivial or even intimate, to making them bright when you want visitors to really be aware of everything around them.
Having the ability to control your lighting can have a big impact on your rooms and the experience of guests in your home.
Layers of Light
An interior design tip that can work very well is to layer up on your lights. Giving yourself options with lighting allows you to add or take Illumination away to suit the situation.
Find a local electrician in your suburbs and get them to install a few more sockets and suddenly you have the capacity to place floor lamps strategically behind large pieces of furniture to add impact and cosiness. Another area to consider your lighting is your bathroom and looking at spot lighting or inlets and making an impact here.
Highlight and Conceal
You can also borrow a few lessons from the world of makeup by using lighting to both highlight features in your home that you like, and hide ones that you don't.
LED down lighting strips can add real drama to a space by drawing attention to its shape, while spotlights can throw focus onto an alcove, a piece of art or a chimney breast. This can also draw attention away from features of the room that you're less keen on.
Also consider the tone of lighting and how much that can alter the mood – cool light creates a focused, precise, clean feel which can work well in kitchens and bathrooms, while warm light adds cosiness and a grounded feel. Whiter lighting tends to make people speed up and want to move while yellow light encourages you to slow down and also to eat more!
Warmer, lower wattage light can also support in the production of melatonin at night – the hormone which signals to our brains that the time for sleep is approaching. This can be especially helpful if you have small children that you need to calm down before bedtime.
Bring The Outdoors In
Considering your garden lighting can really help to make your outdoor space feel like an extension of your home. Using something like solar powered lamps in your borders or some LED fairy lights strung from a pergola draws the eye outwards creating a real sense of the home extending beyond it's indoor boundaries and making a beautiful view to look out at.
Got Something to Add?
How do you incorporate light into your home and do you like to have lots of light flooding your rooms or do you prefer to keep both natural and artificial light to a minimum?
Let us know by commenting below.
Until next time, thanks for reading.
Helen, Nial and Lewis.