For many of us, the kitchen is the heart of the home, and central to so many key moments. Indeed, it's often the one place where everyone sits and spends time together as a family. Below we discuss 10 ways to make your kitchen work better for your family.
1. Integrate It In Your Home
Your kitchen should be an integral part of your home, and not a separate room. While the layout of many homes can often dictate the role the kitchen plays in your home, if you have the chance, either through renovation or a new build, we would suggest opting for an open plan living space that integrates the kitchen.
We have done this in our own home and have the kitchen, dining room and main living room all integrated as one. This has created a great space for entertaining guests, but more importantly, a real focal point in the house.
2. Automate
There are plenty of things you can automate in your kitchen these days. You can program your dishwasher or washing machine to go at night or early in the morning when the electricity rate could be less.
Alternatively, you could utilise cooking appliances like a slow cooker to make your family meal prep that little bit easier. Try out our slow cooker honey beer pulled pork recipe for a treat this summer.
3. Invest In Appliances
Appliances can be a big help in the kitchen, but think about what would work best for your family before making impulse buys. Are your family lovers of curries, pizza or perhaps stir-fry? Consider investing in a slow cooker, a pizza oven or a good wok to help you make your family fakeaways.
4. Get Everything Maintained
Maintaining your kitchen is important to avoid accidents at home and keep your family safe. Not to mention that nobody wants to live on takeaways when their cooker breaks or stops working completely.
You should also check with an electrician that your appliances are not consuming more energy than your fuse box can deal with. If you want to be on the safe side, you can contact someone like the The Amana Fridge Repair Company to get the peace of mind that everything is working fine.
We have a gas hob, so we ensure that we get the gas boiler maintained every year. It's simply not worth the risk. The same goes for smoke alarms and carbon monoxide alarms. Be sure to get them regularly checked to ensure there are no faults.
5. Make It Easy to Clean
One of the jobs you might dislike doing in your kitchen is cleaning. You might want to change the surface, so it is easier to mop up and wipe them, or keep them free from bacteria. You don't even need to replace your kitchen units, if you don't have the budget.
There are companies that can simply replace the drawer faces and the doors, as well as your kitchen work surface, making your job cleaning much easier. Don't forget to upgrade your flooring, and get rid of the small cracks and gaps that cause you trouble when you are following your kitchen cleaning routine.
6. Add Practical Features
There are some practical features that will make your family life more enjoyable. For example, an ice machine or a slushy maker built in your fridge can keep your kids happy and content throughout the summer.
For us, when it came to designing our kitchen, we thought long and hard about the basics like plugs and lights, ensuring we had enough of both and they were well placed. Boring but practical 🙂
7. Make It The Perfect Place For Entertaining
The kitchen has multiple functions in the home, and it has to fulfill its role of entertainment. No matter if you have a separate dining room or not, you can turn your kitchen or breakfast table into a place where meaningful conversations take place.
Invest in a comfortable seating area, so your kids can have a chat with you after coming home from school, and you can carry on doing what you are doing while they tell you about their day.
We have invested in several bar stools and an extendable dining table, enabling us to entertain for small and large groups. We can also spill out on to the patio section which joins our dining room – another benefit of an open plan layout.
8. Let Natural Light In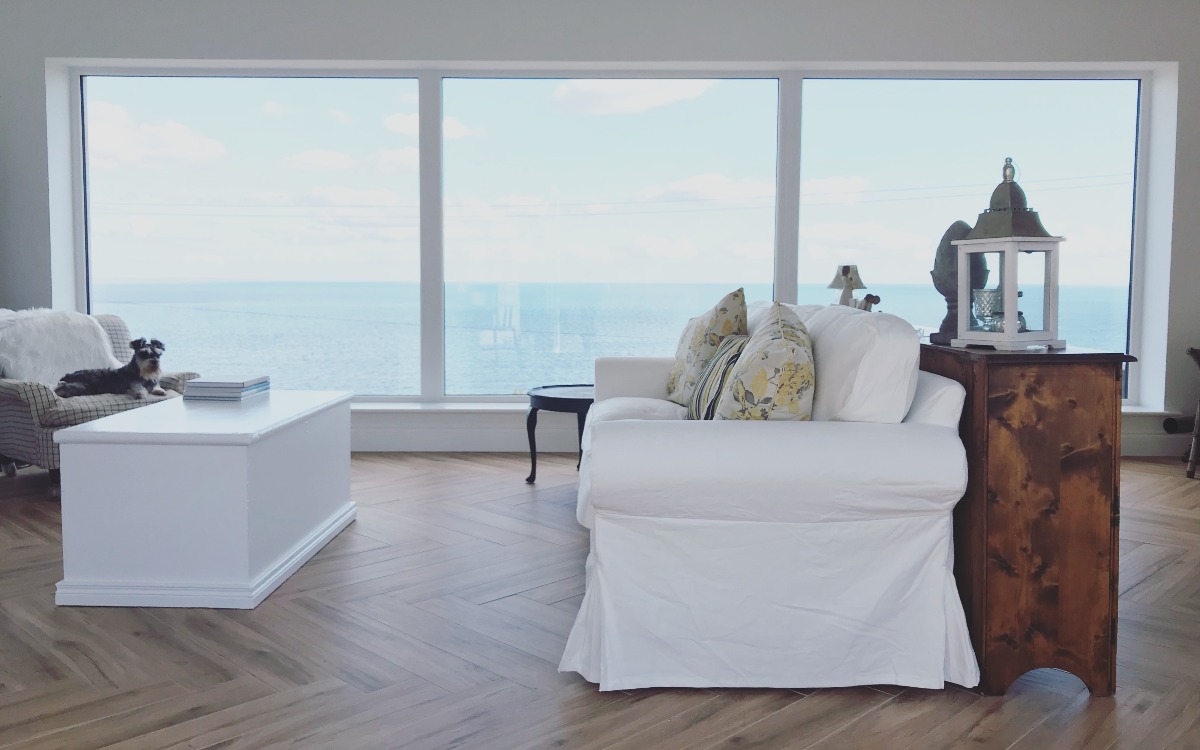 You can significantly improve the comfort level of your home if you let natural light in. You might add a patio door that will do the job and connect your indoors with your patio. Alternatively, make your windows larger, or create an open plan kitchen.
If your home is generally dark, you can use glass bricks to allow light to come across above the doors without having to get a  new window and compromising your wall space. For us, the kitchen is all about natural light as we have a big window that floods our home.
9. Connect Your Outdoors with Your Indoors
If you have a small kitchen, you might not be able to seat all your guests down, and you would probably not want your kids to run around the hot oven and hob. To keep an eye on them while you are preparing food, you can connect your indoors with an outdoor space.
A patio door, or a trifold solution that can be completely removed will make your space brighter, and you can still have a conversation with your guests or family members while you are checking on the food.
10. Choose the Right Colour Scheme
Depending on the style of your home, your kitchen appliances, and your furniture, you will need to choose a colour scheme that will match your personality and make you smile.
Among the most popular colours today include green and gray, and you can add complimenting contrast, such as red or green. After all, we all spend a lot of time in the kitchen; make it as enjoyable as possible.
Got Something To Add?
Your kitchen should not only be practical, but also a part of your family and entertaining space. Before making changes to the design, you will need to ensure that they will reflect your lifestyle and your future family needs.
What do you think makes the kitchen work for a family? Share your tips with us below.
Until next time, thank for reading.
Helen, Nial and Lewis.