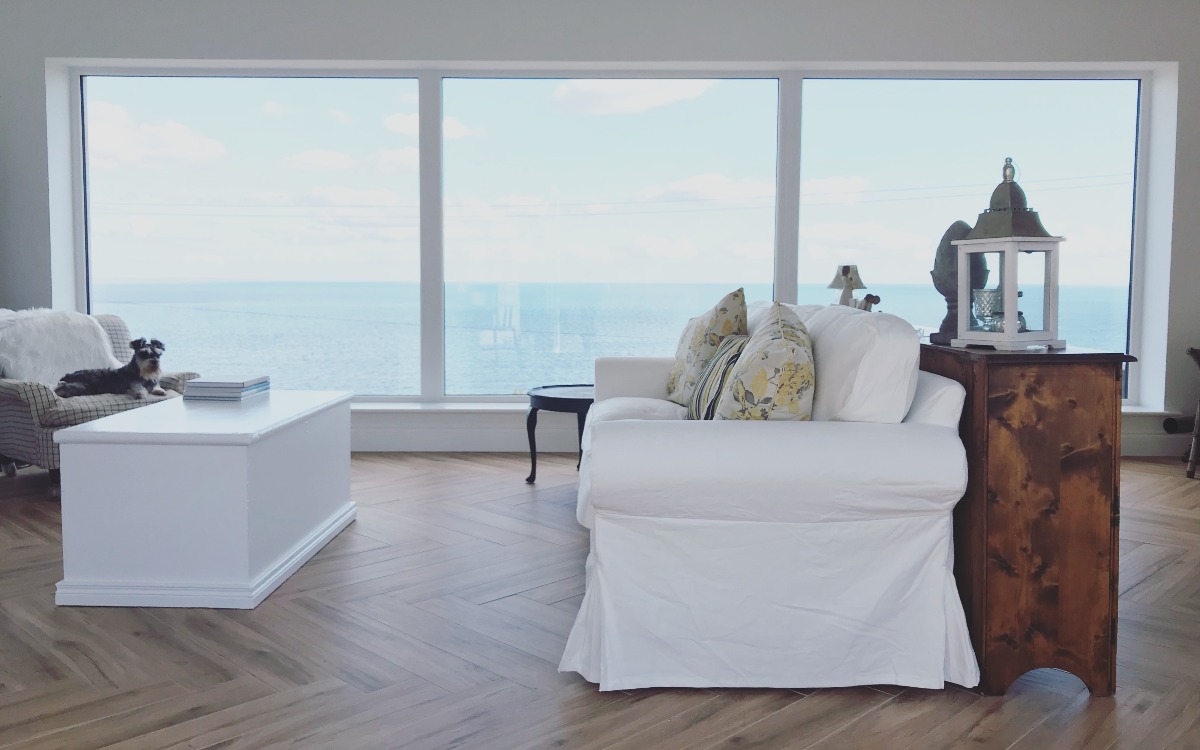 We like to share from our own experiences when it comes to planning home updates or upgrades. Before embarking on a self-build project, we lived in a really old, wooden home in Newcastle, Co. Down. This home had passed through 3-4 generations and was some 100 years old when we decided to renovate and update.
While we loved this home it just wasn't fit for raising a family – it had no source of heating, the windows were single pane, and insulation was minimal. It's fair to say it was a case of layering up in the winter, so as you can imagine, we were extremely excited when it came to planning our new home and ultimately building it.
While we wouldn't claim to be eco-warriors and went fully green with everything we did in our new home, the environment and trying to reduce our carbon footprint as part of the build was certainly something we considered. And ultimately this led us to three burning questions (please excuse the pun).
How do we reduce the amount of home heating we need.
How do we keep our energy bills low.
How can we reduce our waste.
So with this in mind, we wanted to share our thoughts on 3 eco upgrades to consider for your home to address each of these.
1. Insulate Your Home to Keep Costs Down
One of the best ways to keep your heating costs down is to look at your insulation. When it came to renovating our home we opted for big cavity walls which allowed us to pump the walls with lots of insulation. This means less heat escaping through the walls, keeping the home much warmer during the winter, and also limiting our heating requirements in the summer.
Indeed, we typically don't have to turn our home heating on from the end of April until around mid September. We pretty much have five months in the year with no home heating other than the our warm water requirements, and this is primarily down to our large windows letting in a lot of natural light and heat, and the thick cavity walls and loft insulation keeping the heat in.
Our fuel of choice for the home is gas as we wanted to get away from oil. We have underfloor heating which is controlled by smart tech thermostats ensuring the house never goes over 21C in the winter months, thus, only using the gas we need for heating. So the process of investing in tech to control our heating and investing in insulation is something we are already starting to see the benefit – both in terms of financially and also how our home runs.
Check out this great article on eco-friendly heating systems for renovators from Build It (self-build.co.uk).
2. Upgrading Windows and Doors
When it comes to making updates to your home, one area to consider is your doors and windows. Again, for us, this become a huge priority when we were renovating our home and making updates. As previously mentioned, our old home had single pane glass so upgrading to double glaze was a huge priority for us.
We considered several design options including sash windows, bay windows and even triple glazing. But in the end we opted for UPVC double glazed windows, and relatively large windows as we wanted to make the most of the sea views.
Much like the investment in the insulation, we've found the big windows have worked out really well for us, especially in the summer as it has effectively reduced our need to heating. The large windows, while more expensive, allow so much heat to get into the house, and more importantly for us, it allows so much natural light in. Again, this reduces our reliance on lights being turned on, especially during the summer months – just another benefit of investing in the windows.
For doors we invested in composite doors which provide an added level of security for the home. They also help reduce the heat loss, while we also installed patio doors to add even more glass and more natural light to our main living space.
3. Think of Your Waste Situation
Finally, one area we wanted to focus on when renovating our home is how we dealt with waste. No we're not talking about sewage waste, although as we aren't connected to the main sewage grid we had to invest in a modern septic tank which helps to recycle waste water back into the nearby water systems after removing any nastiness 🙂
When we talk about waste above we mean more about how we deal with waste. A few years back we got involved in a Live Lagom project with IKEA and this really opened our eyes to waste. We've re-used as much of our old house in the new one as we could – floors, upcycling furniture and re-using what we could from the house within the foundations and various fill.
We have a dedicated area in our home for properly sorting waste, ensuring we recycle as much as we can. We also try to minimise our food waste and when it comes to throwing out old furniture or items like that, we try to see how we can re-use first before dumping. Then it's a case of dumping in a proper manner – either by leaving goods to a nearby recycling facility or donating what we can to second-hand and charity shops.
Our waste management section in our home ensures we can very easily manage our waste, and therefore we continue to do our bit for the environment. Reduce, reuse, recycle is an important message, and something we try to instill in Lewis every day.
Got Something to Add?
We hope you found this article useful and can take some inspiration from this when it comes to eco upgrades in your home. If you have any tips to add or any thoughts on our recommendations, please feel free to share them in the comments below.
Check out our recent blog on 4 ways to make your home more energy efficient for even more inspiration.
Until next time, thanks for reading.
Helen, Nial and Lewis.