2020 has been a challenging year for most, and thankfully the year is almost at an end. 2021 will hopefully be a year to look forward to, and for many of us, a year to consider moving home or perhaps improving your home?
If this is you then you might want to explore how you can make your home more energy efficient. When we started out on our self-build journey some 4-5 years ago, energy efficiency was one of the biggest things we focused on. And thankfully 5 years later we're fortunate to have relatively low heating and electricity costs, especially in the spring/summer months.
There are numerous ways to approaching this energy efficiency challenge, and by making your home more efficient, not only will you save money, you'll also be doing your part for the environment and a greener future.
Below we share four tips from our own experiences.
1. Insulate Those Gaps
One of the easiest ways to make sure that you are making your home more energy efficient would is by filling in any gaps around the home and the walls. By doing so, you can make sure that the home doesn't feel drafty and that cold air isn't traveling through. Easy things here can include using draft excluders on doors and windows and using seals for gaps in your flooring.
Another thing to consider is additional insulation to your wall. Older homes in particular will likely have older insulation methods, and therefore gaps in the cavity. This will mean air easily escaping in the cold winter months, so one way to address this is cavity wall insulation.
With expanding foams, wee balls fill all the gaps in your wall and help provide additional insulation for your home all year round. This is something we went with in our home, along with an extra thick cavity to allow for additional insulation. With additional cavity insulation you should be able to feel the difference of an extra degree or two during colder days, meaning you don't need your heating to do more, thus benefiting from the savings.
2. Upgrade Your Doors & Windows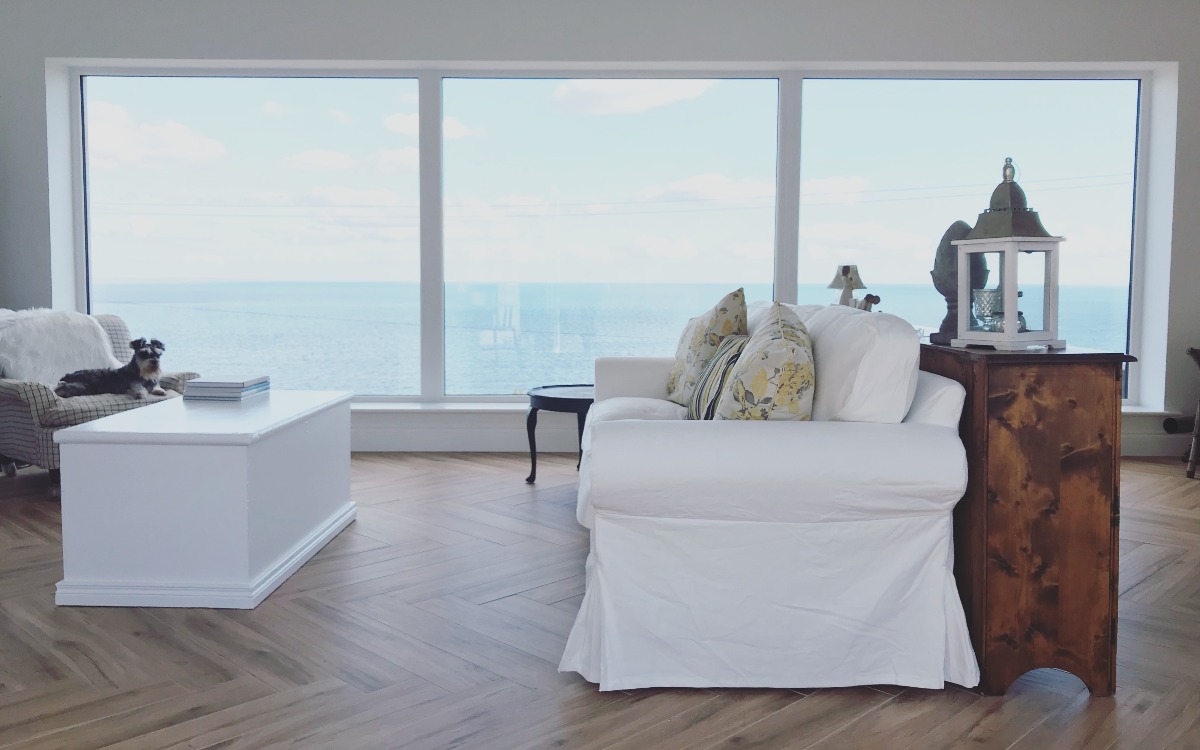 The doors and windows in particular are another area of the property where cold air can escape into the home, and more importantly, warm air can leave the home. This means your heating needs to work harder to keep the home warm.
There are a few ways that you can handle this problem. For instance, you might want to think about improving the windows by upgrading them to triple glaze windows perhaps. Older properties in particular may have gaps appearing in window frames and door frames, so looking at your frames and updating those may be an option. This was a big thing for us in our old house so we ensured the right doors and windows were an absolute priority in our new build.
A more cost effective way of keeping the heat in during the winter months is to invest in curtains for both your windows and main entry doors to the home. This will be a smaller investment in comparison to newer doors or windows, but can be just as effective in helping to keep your home warm, although you may still want to look at any heat loss through your windows as a long-term project.
3. Pack the Loft
We've looked at heat escaping through the walls, windows and doors, and now we look at the area which most of your heat will escape – your roof! We learn from a very early age that warm air rises, and this is certainly the case in the home. As heating leaves the radiators to hear rooms, it eventually rises to the roof, and will at some point leave your house.
To extend the time in which the heat leaves your home through the roof, consider looking at your loft and the level of insulation you have there. Most new builds will have some form of insulation in the loft, although you may want to lay down more insulation for added protection. Older homes may have little or no loft insulation, so take a look in your roof space and see what you may need to consider.
Laying insulation in a loft can be time consuming depending on the footprint of your home, but it should be something you can do yourself, or with minimal professional help. And of course if you are considering a loft conversion for something like a new bedroom or home office, insulation is something you must pay particular attention to.
4. Consider Solar Energy
Alternatively, if you do have more space in your budget, then you can think about investing in renewable energy for your home. You can do this by installing solar panels as part of the property. Solar panels convert the radiation from the sun to provide electricity or heat to your home, thus reducing your need to pay these utilities providers.
While there is a greater cost in this technology, in some instances grants may be available to help. Solar panels were something we considered for our new build but budget meant we had to park it. We will be looking into the technology in the future as we continue to strive for a greener, more energy efficient home.
Got Something to Add?
Do you strive for a greener home? What have you done in your home to try and make it more energy efficient? Let us know in the comments below.
Until next time, thanks for reading.
Helen, Nial and Lewis