The living room is an important part of the home for many of us. It's a space where we spend a lot of time, and more importantly, it's often the area of your house where guests will congregate when visiting your home. Therefore, it's one area to really try and make an impression with.
The recent Covid-19 pandemic will have resulted in even more time being spent in the living room, and this has maybe made you consider your living room's design and layout. Perhaps you're thinking of some updates and a bit of a revamp. Below we look at some things to consider if you're looking to give your living room a bit of a revamp as the autumn/winter nights draw in.
Let There be Light!
Natural light is among the most important additions to any living space. The human eye craves it, and it'll flatter the entire room. If you want to use extreme measures, then you might enlarge your windows, or even add new ones. On the other hand, you might do exactly the same thing by swapping out heavy curtains for lightweight blinds.
As well as the natural light, you'll also want to consider the artificial kind. Look into your light fixtures and ask yourself what they're contributing. For best results, you'll want to have several light fixtures, which collectively spread light to every corner.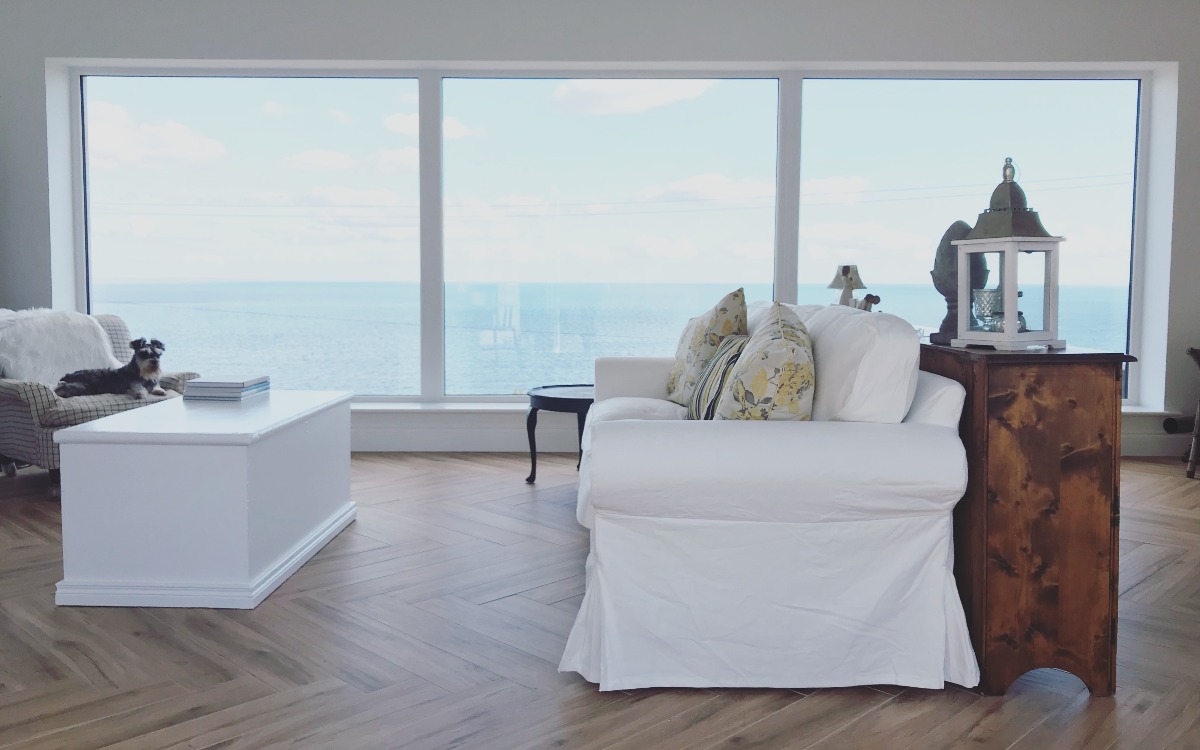 If you have the budget and space, and are keen to look at significant updates to your living room, why not consider opening up those doors and walls and embracing an open plan layout. We have our kitchen, living and dining room combined as one large living space and it has become a great space for entertaining (although not much entertaining at present – thank you Covid!).
Time to Declutter
By the same token, it's also worth looking into the amount of stuff you have in the room in general. The more clutter you have, the less natural light will be able to spread around the room. Plus, clutter tends to add visual noise that might get in the way of you properly relaxing in the space.
It's likely that the lockdown period has allowed you to analyse if your living room is feeling cluttered or crowded. Take a walk around the room and consider the space and how everything flows. Take a seat and consider yourself a guest in your home – what do you feel would help create a sense of space? Make a list of the items that are causing clutter, or drawing your attention, and remove those that you don't need.
We certainly recommend a less-is-more approach when it comes to the layout of your living room. This is partly due to the fact that we have an open plan living area.
A Change of Colour
The colours of the room will have a huge impact on its overall mood. When you're looking to relax, certain colours will help, while others will hinder. Exactly which colours these might be will depend on your personal preference, but mint-greens and lilacs are growing in popularity.
For us, we like light, neutral colours. These can help to make the living space feel bigger, and adding nice wooden furniture and pops of colour to furnishings can really help draw the eye to the areas of your room that you want guests to focus on.
Perhaps as important as the colours themselves is the way that they're combined. Think about the combination you're going for on paper before you commit. If you have a piece of statement furniture already in place, then it might be best to build the rest of the room around it.
On the other hand, you might invest in a new table and begin from there. There is a wealth of resources on the web when it comes to looking at colour combinations, with Pinterest and Instagram a go to for us when it comes to some interiors inspiration.
Swap Your Flooring
If you want a radical transformation, then what better way could there be than by changing from a carpet to hardwood (or vice versa)? You can layer on a choice rug or two to create that all-important living-room feel. Just make sure that you match it to your chosen colour scheme.
Or if you want to be really bold, consider a tiled or concrete finish to the flooring in your living room. We actually opted for a tiled floor for our living room, and went for a herringbone effect which has received lots of nice comments from guests. We went for a wood effect tile which still gives the illusion of a wooden floor, but as we opted for underfloor heating, we wanted a different material to a natural wood.
Got Something to Add?
Have you recently transformed your living room? Share your top tips in the comments section below.
Until next time, stay safe.
Helen, Nial & Lewis.