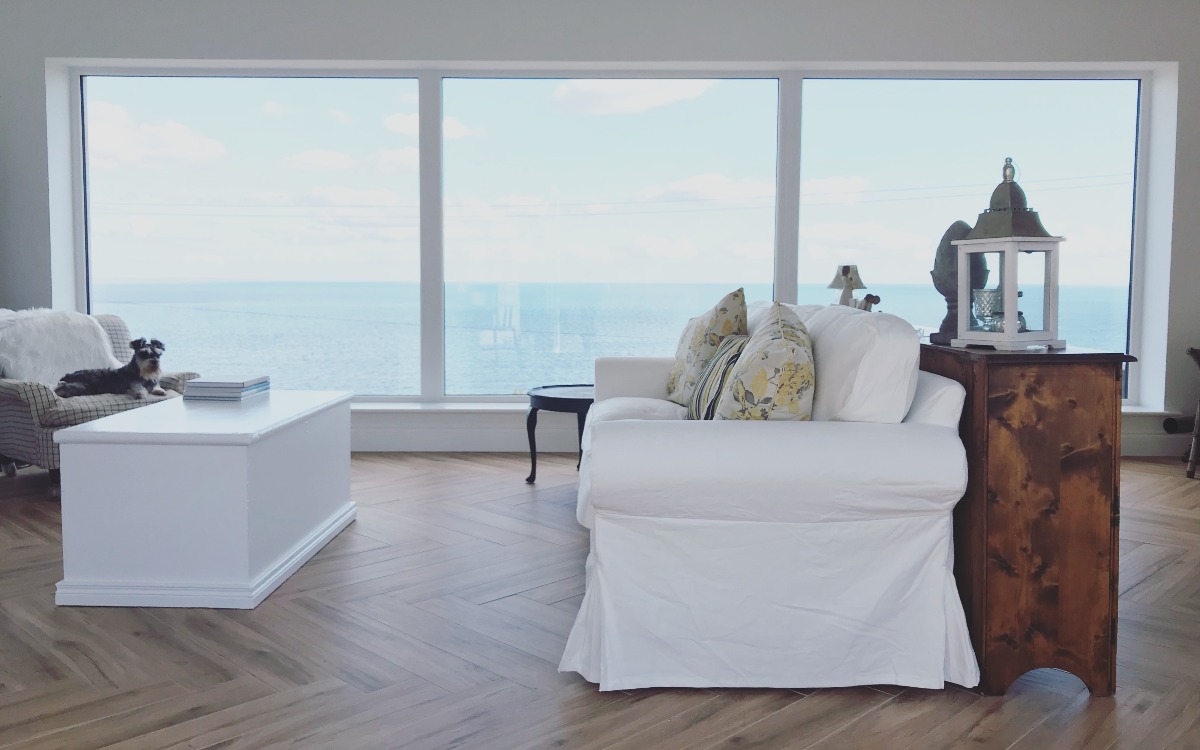 An incredibly common aspect of sprucing up a home is to go for kerb appeal. Put simply, kerb appeal is that wow factor your home gives out from the exterior. But when it comes to making it work with the interiors, and going with a specific style, it can be quite a challenge.
We've been working a lot over the recent months to make the outside of our home flow with the inside. While there are many ways to add kerb appeal to your home, here are four things we feel can help make a real impact to visitors and passers-by.
1. A Great Front Door
Regardless of the size of your property, the front door needs to be a focal point for visitors. If you want to create great kerb appeal, a great front door is one thing that ties it all together.
Picking a front door that creates an overall aesthetic is essential. If you're going for a rustic look, oak or a layered texture can help to communicate that more classic sense.
On the other hand, if you've got a very modern property, it's far better to go for a more modern material like fibre glass, or even steel. Composite doors are extremely popular today, and this is something we have went for in both external doors of our home.
2. The Pathway
The route leading up to your front door needs to communicate that overall style. The pathway itself may not seem like such an important aspect of kerb appeal, but it's important that you use the right materials.
It all depends on the location in which you live, as well as the property itself. But if you're looking for a certain aesthetic, having it in tune with the front door means that they are two sides of the same coin.
You could use rustic material like Yorkstone Flags to put forward that sensation effortlessly. But if you're looking for a more modest approach, you can just go for standard paving slabs.
Either way, the pathway is the way your home makes a grand impression. We've opted for charcoal flags around our home as this works well with the black frames of our doors and windows, while the addition of lots of plants (and we mean lots), is something that has added a real feature to our home and pathways.
3. Improving Your Colour Palette
If you're looking to create a sense of unity, identifying a wider variety of colours will help to spruce up your exterior. What's more, a shabby looking property can be rejuvenated by the right collection of colours.
To create a more seamless look, you should choose complementary shades that work well. Have a neutral tone for more dominant areas of the exterior, such as the masonry, use accent colours for the doors, and then use trim colours for the frames.
If you have a bare minimum of colours at the front of your property, it's always worth expanding, but not so much that your home looks muddled. You still want to create that unifying look.
We've used plants in several areas of our garden to inject colour, while also dedicating an area of the garden to only white flowers to create a relaxing space – our own little oasis!
4. Let The Light In
Instead of using the bog-standard porch light, you can shake it up to create a more substantial impact. A lot of people go for the one bulb setup, but you can make it a lot more interesting with solar light fixtures, or using fairy lights around your garden.
You want your home to radiate appeal during the night as well as the day, and this is why you should never underestimate the light your property is viewed in. Plus, if you entertain a lot, your exterior lighting can help create the perfect outdoor entertaining space.
To give your home that kerb appeal factor you can start by doing the simple things. You'll find that down the line, your home radiates that fresher look, and if the time comes to sell up, you've already done the hard work!
Got Something To Add?
What are your top tips to achieving kerb appeal? Let us know by commenting below.
Until next time, thanks for reading.
Helen, Nial and Lewis.