Creating a stylish and elegant home can feel like an uphill battle, particularly if you're on a budget and have kids to consider! While you might need to take a firm stance against crayoning on the walls, it's certainly possible to enhance your interior design while you're raising a family. What's more – you don't need to blow your budget to do it.
If you're eager to overhaul your décor or transform your surroundings, take a look at these top tips to make your home more elegant without breaking the bank:
1. Use Cornicing and Coving
Interior cornice or coving sits between the top of the wall and the ceiling and enhances the aesthetic of the room. Painted in matt white, they complement virtually any colour scheme and can be used in living areas, bedrooms, kitchens, dining rooms, home offices and hallways. In fact, some people choose to install cornice or coving throughout their home to create a seamless design flow.
Both coving and cornice can be purchased relatively cheaply, depending on what material you choose, so you won't need to overspend in order to enhance your home in this way. Furthermore, you can install it without professional help, which makes it a budget-friendly option!
2. Choose a Neutral Palette
One of the quickest ways to transform any room is to replace the wallpaper or repaint the walls. Choosing a neutral palette gives you the flexibility to change the room over time, without needing to undertake major redecoration projects. While whites and greys are popular options, beige can be a more warming option. To envisage your home in a neutral colour scheme, take a look at the wide range of beige wallpaper options here.
Once you've finalised your paint or wallpaper choices, you'll be able to incorporate bursts of colour in strategic locations. Bold accents can liven up your interior design and create a focal point, without dominating the space.
3. Install Interior cladding
Cladding is a term that many people associated with external décor and masonry, but interior cladding is becoming increasingly popular. It can be used in all interior spaces, from bathrooms and kitchens to bedrooms and living areas, so it's a versatile option when you want to make your home feel more elegant.
Interior cladding is available in a wide range of styles, but wood panels are a great choice if you're aiming for a sophisticated style. Alternatively, the appearance of natural wood walls, tiles and distressed timber can easily be achieved with interior cladding.
As most interior cladding panels are manufactured with tongue and groove connectors, they're easy to install and don't require professional input. If you're looking for a budget-friendly DIY project to make your home more elegant, this is something that should definitely be on your list!
4. Declutter the Space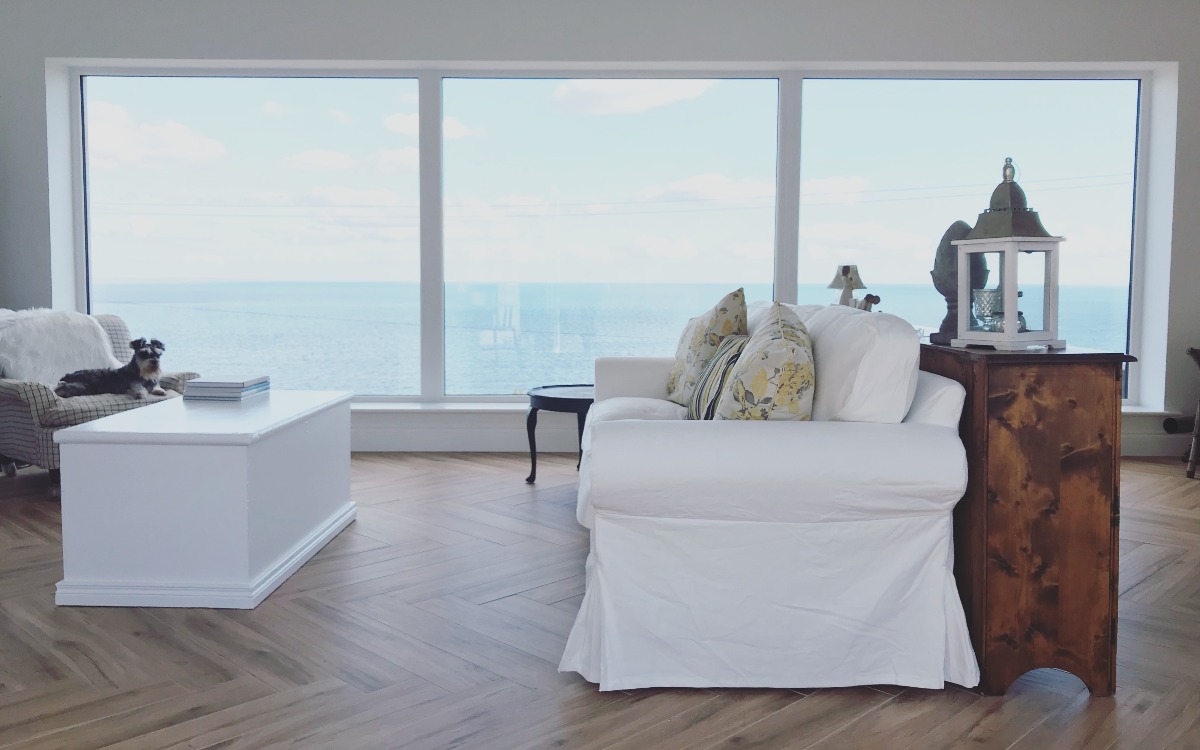 Decluttering is an effective way to make your surroundings feel more inviting and stylish and it won't cost you a penny. Ok, it will require a little time and effort but you don't have to relinquish any of your budget in order to enjoy a brighter and more streamline environment.
Focus on one room at a time and decide what you need to keep and what can be donated or discarded. Then, make sure you have a suitable storage space for everything that doesn't need to be on show all the time. When you can tidy things away, you can make the most of your carefully chosen décor and enjoy the interior design you've cultivated.
Of course, decluttering your home doesn't have to be a solitary activity. To be really effective, you need to get everyone involved, including the kids. After an initial decluttering session, it only takes a few minutes a day to ensure everything goes back where it belongs, so it's well worth putting a little extra effort in now to reap the rewards later.
5. Upgrade Linens
If it's been a while since you've bought new sheets, duvet covers and pillowcases, now is the time to do it. You don't need to spend a fortune, but good quality linens will transform how your bedroom feels and they can even enhance your sleep quality.
Instead of focusing solely on colour or design, pay attention to the material and thread count when you're scouring the shops (or websites) for new linens. Pure cotton is a great choice for soft linens and a thread count of 200 or above indicates high quality. Of course, the higher the thread count, the better the quality, but it's not necessary to overspend on sheets with an 800 or 1,000 thread count.
6. Replace Cushions
If your cushions have been serving you well for years or have provided a soft landing for kids as they've leapt from one piece of furniture to another, it might be time to replace them. The right cushions can enhance your décor and add elegance to a room, but loose stuffing or sagging will ruin the effect immediately.
However, you can purchase new cushion infills relatively cheaply, so it's an easy fix. If your cushion covers are still in good condition and complement your interior design, simply replacing the infill is a great way to upgrade the room with minimal effort.
7. Match Fixtures
Over time, fixtures get damaged or stained and may be replaced with alternatives. As a result, you can end up with mismatched door handles, light switches and drawer pulls. While these are only small features, they have a significant impact on the overall feel of a room, which is why they're worth changing.
Choosing matching fixtures that can be used throughout your property, if you want to make your home feel more stylish and sophisticated. Replacing a light switch plate or door handle is easy to do yourself and replacement fixtures can be purchased cheaply, so it's another way to stretch your budget for maximum impact.
8. Raise Window Treatments
High ceilings are a hallmark of element homes but, if you don't fancy undertaking major renovations, it might be impossible to increase the size of your rooms. However, raising your window treatments can give the illusion of a high ceiling. When you affix curtain or blind rails closer to the ceiling than the top of the window, it makes the room feel lighter and larger. Choosing long or even floor-length drapes and curtains is another easy to way make a room feel more sophisticated.
Whatever window treatments and dressings you choose, make sure they're safe for young children and pets. If you're using blinds in your home, for example, choose a style that doesn't feature a cord and opt for cordless or automated styles instead.
9. Use Layered Lighting
When rooms become multi-purpose spaces, you need to extend their functionality while retaining their elegance. Your living room or dining room may have been transformed into a home office, for example, or your kitchen may double-up as a homework zone. To maximise functionality, you'll need layered lighting, so that different tasks can be completed adequately.
However, layered lighting also creates ambience and makes a room feel more sophisticated. Instead of relying on single, overhead lights, use a combination of floor lamps, desk lamps, spotlights, wall lights and uplighters to transform the space.
Enjoying an Elegant Home
If you want to enjoy your elegant home for more than a few hours, it's important to choose features that are as family-friendly as possible! By doing so, you can enhance the functionality of your home and ensure that it's easy for everyone to keep it looking stylish and sophisticated even when things get hectic.
Got Something to Add?
Feel free to share your tips by commenting below.
Until next time, thanks for reading.
Helen, Nial and Lewis